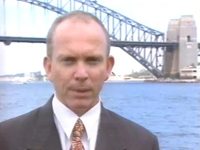 Doug Weller reading ABC 7pm Television News Bulletin and reporting on Equal Pay Equal Work Dispute
Video Title: Doug Weller reading ABC 7pm Television News Bulletin and reporting on Equal Pay Equal Work Dispute
Date: 1995
File details: https://www.youtube.com/watch?v=3BdORpQjy2U
Duration: 02:44 minutes
Produced by: ABC Television News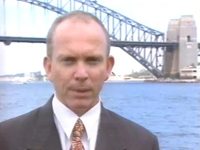 Transcript:
With Australia on the verge of all-out industrial confrontation the Industrial
Ccommission summon the warring parties to Sydney after less than two hours a breakthrough
The ACTU has undertaken to use its best endeavours to remove the impact of the current industrial disputation and particularly in so far as it effects the waterfront and the coal industry generally
Well we're a lot further down the track than we were yesterday
Total impasse yesterday with moves by the company late last night
and i think uh… we were certainly very heartened by the intervention
of the President of the Commission and the comments she made
I am leaving with a lot of hope
Before this afternoon's development virtually every sector of commerce and industry were bracing for industrial unrest
That threat is now being withdrawn but not for CRA
But in all instances action that is current and planned will continue against CRA
This doesn't surprise the company but it's pleased the wider action is being wound down
It was sad that it happened in the first place and unnecessary because uh… we have consistently made it clear that we are in agreement
that the concept of collectively bargaining and further on the principle of uh…equal pay for work of equal value
The next stage in this saga will be played out here in Sydney on Monday morning when the full bench of the Commission meets to hear the Weipa case
Now the former Prime Minister Bob Hawke will act as the ACTU's chief advocate
Talks will take place in Sydney over the weekend between the former Prime Minister and senior ACTU officials.
From Japan the only comment from the Prime Minister's camp
was surprise at the Hawke development
No doubt Mr Keating is also embarrassed his former rival has been
brought in to resolve a dispute the Prime Minister thought he had solved.
Opposition Leader John Howard says it's clear Messrs Kelty, Keating, Brereton and Ms George have fallen into an industrial
black hole, and Bob Hawke has put up his hand to bail them out.
As for the Weipa strikers they'll settle for nothing less than equal pay for equal work
Nothing's gonna change, the company is not gonna try and bait us with any half deals of anything.
We've said right from the onset equal pay for equal work and that's what we intend to sit here to do the whole way through.
Waterside workers are expected to vote to return to work within twenty four hours It's also expected the national coal strike set to begin tomorrow has
been averted.
Make an enquiry now or call us on 1300 737 913 or +61 412 298 905