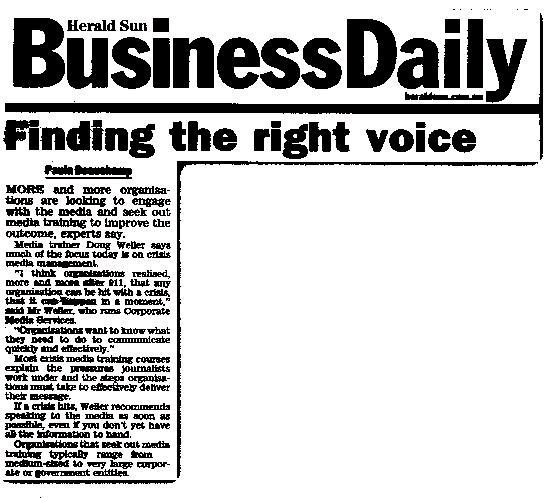 Finding the Right Voice
Published: 23 January 2008
Publication: Herald Sun
Author: Paula Beauchamp
Words: 148
Image of article: Shown below
**START TRANSCRIPT**
Finding the right voice
More and more organisations are looking to engage with the media and seek out media training to improve the outcome, experts say. Media trainer Doug Weller says much of the focus today is on crisis media management.
"I think organisations realised, more and more after 9/11, that any organisation can be hit with a crisis, that it can happen in a moment", said Mr Weller, who runs Corporate Media Services.
Organisations want to know what they need to do to communicate quickly and effectively. Most crisis media training courses explain the pressures journalists work under and the steps organisations must take to effectively deliver their message.
If a crisis hits, Weller recommends speaking to the media as soon as possible, even if you don't yet have all the information at hand. Organisations that seek out media training typically range from medium-sized to very large corporate or government entities.
**END TRANSCRIPT**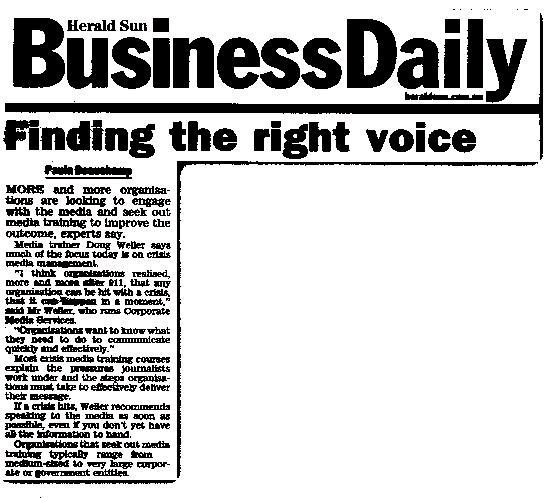 Make an enquiry now or call us on 1300 737 913 or +61 412 298 905