Corporate Media Services History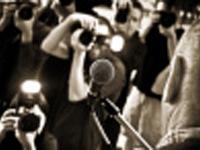 Journalist, Doug Weller, founded Corporate Media Services in 2005 after a distinguished career in journalism spanning more than 35 years.
Doug's journalistic expertise and extensive insight into the operations of the media and presentation style are of great advantage to clients.
Experienced and knowledgeable Corporate Media Services' trainers keep abreast of the changing media landscape and impart their skills and wisdom to clients through discussions about the media, media trends, practical exercises and personal experience.
Corporate Media Services clients include a number of leading commercial, educational and service organisations, both in the public and private sectors. You can read some of their testimonials, feedback and reviews here.
Make an enquiry now or call us on 1300 737 913 or +61 412 298 905