Weller's away to Washington
Published: 16 December 1989
Publication: Gold Coast Bulletin
Author: Editor
Words: 84
Image of article: Shown below
**START TRANSCRIPT**
Weller's away to Washington
ABC Radio's Queensland chief Doug Weller will take up a senior position as Washington foreign correspondent early in the new year.
The three-year posting is considered the pinnacle of any ABC reporting career.
Weller is a Queensland political reporter with ABC's AM, The World Today and PM.
In five years of current affairs experience at the ABC, Weller has worked closely with the Joh for PM campaign through to Sir Joh Bjelke-Petersen's demise, the Fitzgerald Report and the rise and fall of Mike Ahern.
**END TRANSCRIPT**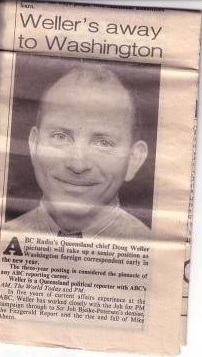 Make an enquiry now or call us on 1300 737 913 or +61 412 298 905