By Doug Weller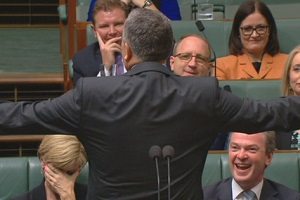 Politicians, especially those in the state and federal arena, do a lot of media interviews – it goes with the territory.
If you spend a lot of time doing media interviews you get an understanding of how the media operates and you quickly learn how to conduct yourself around cameras and microphones.
Federal politicians are acutely aware of where cameras are placed in the House of Representatives and the Senate.
In TV news items we often see politicians speaking in those forums and we can often see other politicians in the background.
The Foreign Minister, Julie Bishop, would be well aware that she is in the background when others are speaking in the House of Representatives – she does sit on the front bench after all.
Ms Bishop is generally a very good media performer and she seems very savvy when cameras are about.
So I can't understand why she put on the display that she did during Joe Hockey's parliamentary tribute speech to Malcolm Fraser.
Her eye rolling, head shaking, jaw dropping performance during Joe Hockey's delivery was really surprising.
Maybe she was jet lagged after a recent trip. Maybe she didn't care about how it looked? Perhaps she was trying to send a message about cuts to foreign aid?
We may never know since she said she would keep her opinions to herself.
The major point we should take from this is that you don't need to communicate verbally in the media in order to have a major impact.
Facial expressions and gestures say a hell of a lot.
Understand that your expressions and gestures will send powerful messages especially during face to face presentations, web based videos and TV interviews.
Whenever you are in an environment where people can see you or there are cameras around, be very focused on the visual messages you send.
Remember
• Assume all cameras are live and recording your movements
• Be aware of the powerful messages you can send via non verbal communication
• A picture is worth a thousand words
Further Reading
Julie Bishop makes real life eye roll emoji face as Hockey jokes about budget
https://www.corporatemediaservices.com.au/uploads/Julie-Bishop.jpg
200
300
corporatemediaservices
https://www.corporatemediaservices.com.au/uploads/corporate-media-services1.png
corporatemediaservices
2015-04-22 14:51:21
2019-07-07 11:20:07
The Julie Bishop Eye Roll Incident