Online Crisis Communications – Germanwings

The Germanwings aviation tragedy demonstrates how fast news travels via traditional and social media during a crisis.
In the midst of the disaster, Germanwings and its parent company Lufthansa had to respond to the crisis while continuing to operate their businesses.
During a crisis, speculation, opinions, conspiracy theories, rumours and facts will be tossed around.
Company websites and company social media accounts are some of the first places the media and the public turn to for the latest news and updates on a crisis.
It's really important that a crisis communications strategy exists and that websites and social media sites are crisis ready.
The media will be desperate for information. Journalists want and need the latest facts and updated content.
As the Germanwings coverage evolved, stories transitioned from the plane crash, to the recovery effort, finding the black boxes and the allegation that the co-pilot, Andreas Lubitz, deliberately downed the aircraft.
News organisations sourced information not only from Germanwings but also from a range of people such as the co-pilot's friends, past partners, ex flight instructors, neighbours and acquaintances.
As the story  changes  it's important that your website and social media accounts are updated with fresh messages.
In the digital world there isn't time to develop an online strategy from scratch when a crisis hits. News now travels instantly and is 24/7.
Organisations must have a prepared online crisis communications plan which is ready to go.
During a crisis an up-to-date, informative digital presence is critical.
Germanwings provided regular updates which addressed speculation, empathised with family members and expressed the organisation's shock as information unfolded.
For example, when Germanwings confirmed that the co-pilot had deliberately killed himself and everyone else on board, it  published the following update.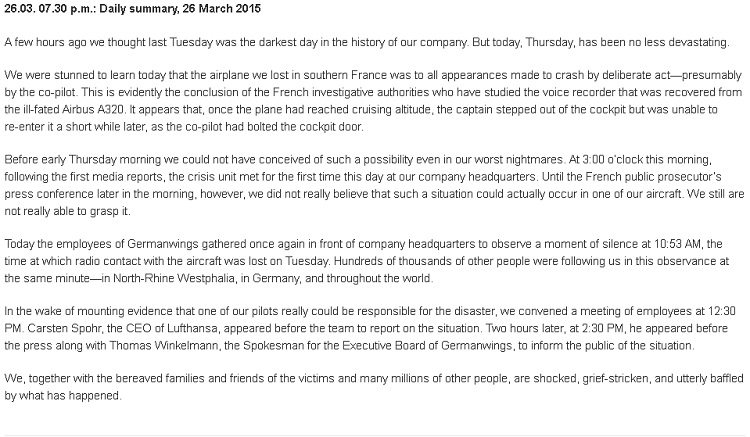 Source: Germanwings
The company message clearly portrays their astonishment, disbelief and devastation.
Every organisation is different so you need to deal with a crisis in the most appropriate manner for your business.
However, even small organisations are not immune to crises and should ensure their websites and social media accounts are ready to go.
These sites must also be able to handle a dramatic increase in digital traffic. Germanwings' website went down when news broke of the incident and remained unavailable for some time. It was unfortunate as they were referring audiences to their website for updates via social media.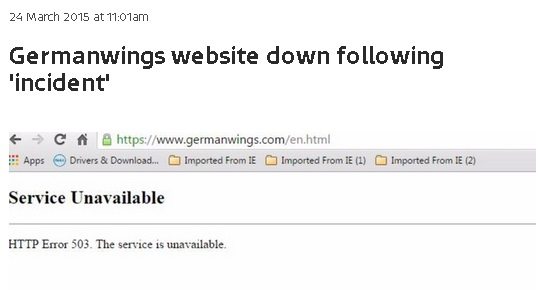 Source: ITV News
During a crisis it's vital that the affected business  be the primary source of information, particularly for the media.
When a crisis hits your business you need to be in control, credible and offer timely, accurate information.
This not only builds trust with your wider audience but also importantly builds journalist's trust in you.
Being a reliable online source of information for news media makes the journalist's job easier. It also ensures your messages are at the forefront of what's reported.
Messages must include latest updates and express empathy and concern.
High profile organisations and those facing a higher risk of crises, such as airlines, often have a 'dark site'.
Dark sites are pre built company websites that are ready to activate when a crisis happens.
Dark sites:
are solemn
provide detailed information of the crisis
give regular updates
express concern
give instructions to those affected e.g. family members
are typically ad free
provide contacts for the media
Both Germanwings and their parent company, Lufthansa, altered their logos to black and white to reflect the solemn nature of the event.
Image Source: PR Week
The Germanwings homepage also changed to reflect the sombre mood of the incident.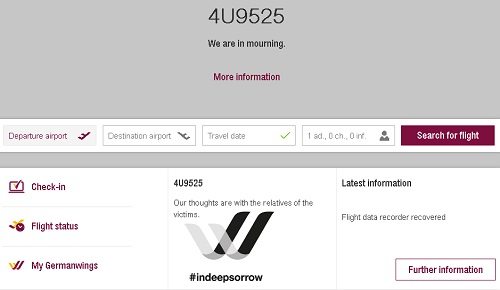 Source: Germanwings
Dark sites generally then direct you to click through to the normal operating page.
They ultimately allow organisations to appropriately deal with the crisis and manage usual business simultaneously.
There are many ways for an organisation to deal with a crisis. Just ensure that you're prepared and know what you will do if a crisis hits.
Remember
Provide regular accurate updates, appropriate information plus messages of empathy
The message can evolve as the situation changes
Maintain your positive image
The organisation should be the primary source of information during a crisis
Further reading
Crisis of the Week: Lufthansa's Response to Germanwings Crash
PR experts applaud Lufthansa's crisis communications approach to Germanwings disaster
 Lufthansa, Germanwings darken logos on social media in mourning after crash
Information Only
Any information presented on our website is of a general nature only and is not intended as a substitute for professional advice.
Further Assistance
If you want to know more about engaging with the media, contact Corporate Media Services for more information about our media training programs and services. Make an email enquiry now… or call
1300 737 913
https://www.corporatemediaservices.com.au/uploads/Germanwings-crash-site.jpg
171
300
corporatemediaservices
https://www.corporatemediaservices.com.au/uploads/corporate-media-services1.png
corporatemediaservices
2015-04-14 15:03:31
2021-07-10 16:21:28
Online Crisis Communications - Germanwings