By Corporate Media Services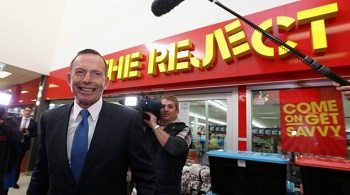 Politicians are a mobile lot, looking for a photo opportunity at every turn.
A media pack chasing you around a shopping centre might seem annoying to most of us but politicians generally love that sort of publicity.
In the world of politics photo opportunities are crucial.
The unfortunate downside is that journalists, camera people and photographers get bored.
For them it's just another shopping centre, another walk about, another photo op.  So they're always looking for something a little bit different.
At the same time, politician's media teams are always on the lookout for danger.
The big danger that everyone tries to avoid is a political photo in front of an 'exit' sign.
But let's be fair dinkum about this, you can't avoid every potential problem –  sometimes they just slip through.
A photo of Australian Prime Minister, Tony Abbott, standing in front of the discount store 'The Reject Shop', is a perfect example of a politician being in the wrong spot at the wrong time.
Really, it could be argued that a photo like this is not in the public interest or anybody's interest. Why would you publish it? Who cares?
But if an opportunity like this presents itself, there's not a photographer or camera person who is going to knock it back. Especially when the debate about rejecting Mr Abbott seems endless.
If you're outside the world of politics, situations like this one probably won't be a major concern for you. But it's an important reminder to be in control of your background if you're appearing in the media.
Photographers and camera people generally aren't trying to stitch you up visually but they are under a lot of pressure to deliver interesting photos and vision.
So before you are photographed or filmed, look over your shoulder and make sure you're happy with the background.
If there is anything about the background that you're not happy with, speak up.
Simply tell them that this isn't working for you and then suggest a different location.
You don't want the photo or vision to take away from your message – you certainly don't want to send the wrong message.
Photo opportunities are great but be aware of what's in the background.
https://www.corporatemediaservices.com.au/uploads/Abbott-Reject-Blog-Pic.jpg
195
350
corporatemediaservices
https://www.corporatemediaservices.com.au/uploads/corporate-media-services1.png
corporatemediaservices
2015-06-05 13:36:37
2019-07-07 11:20:02
This Photo Opportunity Should Have Been Rejected