Media 'Sharks' Circling Can Be A Good Thing
When a shark ambushed Pro surfer, Mick Fanning, during a surf competition, international media broadcast the incident live.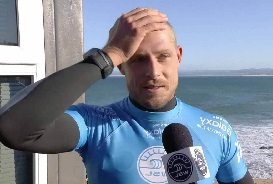 An audience watched in horror. That audience included his terrified mother.
Fanning's survival and bravery was truly amazing.
Fellow surfer, Julian Wilson's heroic attempt to reach Fanning, was also inspiring.
In a world where many stories look like beat ups to satisfy the ferocious appetite of the 24 hour news cycle, this story contained real drama and fortunately a happy ending.
When rescue boats plucked Fanning from the water he had no time to digest what had just happened. He had a camera and a microphone in his face before he'd even reached the shore.
As his adrenaline raced he probably became mindful of the most important audience, his family and friends. They had witnessed the shocking incident on live TV.
When Fanning got back to shore he was overcome with emotion. He requested a media interview to reassure everyone he was OK, saying it was necessary for him to do that quickly so his concerned family and friends could hear from him that he was fine.
In the midst of a traumatic event, Fanning understood the importance of reaching his audience quickly. He used the media to his advantage to deliver his message.
For all of the faults that media may have such as inaccurate and exaggerated reporting; live broadcasts are an excellent way to get your message to your audience in real time.
Emergency services organisations use live broadcast media to deliver timely and critical information about bush fires, floods, earthquakes and other natural disasters. It is absolutely crucial that they deliver information about disasters and updates promptly.
All organisations can learn a lot from this media process.
Often when a disaster strikes an organisation the automatic reaction from the leadership is to refuse to comment.
In fact, the best course of action can often be the reverse.
As difficult as it might be, leaders faced with a crisis need to communicate their messages quickly.
Timely messages can reassure employees and their families, clients, customers, stakeholders and the broader community.
In the early stages of a crisis information may be limited and that's understandable. It takes time to gather information and get the facts straight.
Many people would question the ethics and fairness of interviewing Mick Fanning moments after surviving a traumatic shark attack.
The fact is, this was a major story being played out live on international TV.
There wouldn't be many journalists on the planet who are going to say, "Gee, he looks a bit stressed, I'll do the interview tomorrow." Their job is to get the story and deliver the news – now.
If you or your company are involved in a crisis and journalists want and need information immediately, have a strategy in place to deal with it.
It will benefit the media and may be of enormous benefit to you.
Further Reading
Fanning's Shark Attack Media Frenzy
Information Only
Any information presented on our website is of a general nature only and is not intended as a substitute for professional advice.
Further Assistance
If you want to know more about engaging with the media, contact Corporate Media Services for details about our media training programs and services. Make an email enquiry now… or call 1300 737 913