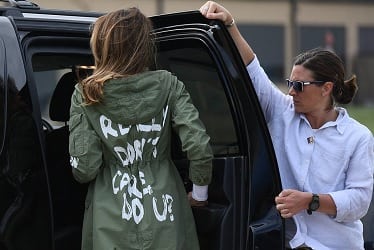 By Doug Weller
The distressing humanitarian crisis over children separated from their illegal immigrant families, then held in a US Department of Human Services facility, made global headlines. But sadly, Melania Trump's jacket made sure the headlines kept rolling.
The media coverage and public outrage over the humanitarian issue finally led to the policy being overturned when Donald Trump, in a rare move, admitted an error and flipped his decision regarding separating children and parents.
So, when Melania Trump set off to visit some of those displaced children in Texas, wearing a jacket emblazoned with 'I really don't care, do you?', she left journalists and the public baffled.
The point of the trip was public relations – to show compassion. But the jacket and its message blew that to bits.
Mainstream media and social media erupted and "insensitive" was the message of the day.
The first lady's spokesperson, Stephanie Grisham, was quick to clarify "It's a jacket. There was no hidden message. After today's important visit to Texas, I hope this isn't what the media is going to choose to focus on."
YES! That is absolutely what the media focused on!
If the first lady jets off on a goodwill mission, wearing a jacket literally stating that she doesn't care, the media is going to go bonkers.
Of course, the story became all about Melania Trump's jacket and the White House was left in damage control about its damage control mission.
Media is more than just messaging. It is more than just words. Location, backdrops, body language and even clothing matters.
Those non-verbal cues portray visual messages to your audience and should support your spoken message.
There's plenty of research out there which says visuals are more important than words.
In this case, the message on Melania Trump's jacket totally undermined the original intent.
Media messaging disasters happen.
People saying the wrong thing. Saying it in the wrong way. Standing in front of the wrong backdrop. Wearing the wrong clothes.
Most of the time it's people who don't understand the media who make these mistakes.
They front the media unprepared and miss the mark. Sometimes the personal and organisational reputation fallout is horrendous.
But when you're the first lady of the United States, with a team of high powered media advisors, how does such a media disaster happen?
Media and communications professionals are paid to advise people on what to say and what to wear.
It's almost impossible to comprehend that at least one of these very experienced media advisors, who walk the corridors of the White House, didn't spot Melania Trump's totally inappropriate jacket.
We saw the wife of the wealthy U.S. President, boarding the very expensive Air Force One, on a damage control mission visiting displaced immigrant children, wearing a jacket stating, 'I really don't care, do you?'
Perhaps the first lady simply didn't think through her jacket choice. But any media officer, junior to executive, should have picked it up. Maybe they did but she didn't listen.
What should have been a positive media event became a media train wreck. It completely undermined the event and the compassion message.
If you're going to start dealing with the media, think about what you're saying, how you're saying it, where you're saying it and what you're wearing.
If you don't know how to do that, find a competent media advisor who does and listen to their advice.
Information Only
Any information presented on our website is of a general nature only and is not intended as a substitute for professional advice.
Further Assistance
If you want to know more about how Corporate Media Services' training programs or media consultancy can help you make the most of your media opportunities and avoid the danger zones, contact Corporate Media Services for more information.
https://www.corporatemediaservices.com.au/uploads/corporate-media-services1.png
0
0
corporatemediaservices
https://www.corporatemediaservices.com.au/uploads/corporate-media-services1.png
corporatemediaservices
2018-06-25 16:20:17
2021-07-24 16:49:47
I Really Do Care About Melania Trump's Jacket Fiasco