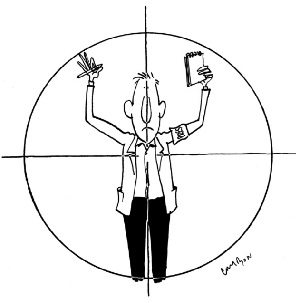 By Doug Weller
It's easy to forget journalism can be a very dangerous job.
The dangers are many for journalists who cover conflicts in various international hotspots.
A shocking example is that of freelance war correspondent, James Foley, who was abducted and beheaded.
Freelance cameraperson, Ashoka Mukpu, is another example having contracted and survived the deadly ebola virus while covering the health crisis in Liberia.
Journalists and other members of the media don't necessarily need to work in international danger zones to be targets.
The Charlie Hebdo massacre in Paris shows journalists simply working at their desk in a city office can be in jeopardy.
Journalists and other media representatives can be criticised. Some of these criticisms may be justified if the reporting is inaccurate or unethical.
But we should never forget that the crucial role of a free media in a free society is to observe and report without fear or favour.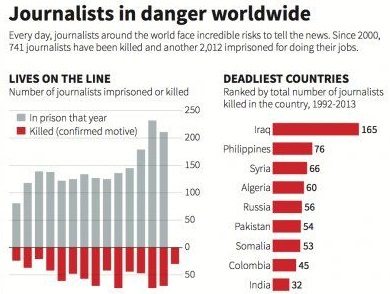 Source: Committee to Protect Journalists. W. Foo, 20/08/2014
The 2014 Walkley Awards chose 'courage' as its theme to acknowledge the dangers journalists face doing their job.
We need to keep in mind that these people are story tellers. We are all consumers of news who want to read, listen to and watch their stories.
The ABC has established a staff memorial which pays tribute to ABC staff members who have lost their lives in the line of duty.
Take a look and spare a thought for those in the media who have suffered or lost their lives and those who still risk their lives to bring us the news.
Further reading
Peter Greste – Walkely award winner for 'Outstanding Contribution to Journalism'
Balibo Five Investigation Dropped by AFP
Ukraine Tops Journalist Death Toll This Year
Information Only
Any information presented on our website is of a general nature only and is not intended as a substitute for professional advice.
Further Assistance
If you want to know more about engaging with the media, contact Corporate Media Services for more information about our media training programs and services. Make an email enquiry now… or call
1300 737 913
https://www.corporatemediaservices.com.au/uploads/Journalist-in-firing-line.jpg
303
296
corporatemediaservices
https://www.corporatemediaservices.com.au/uploads/corporate-media-services1.png
corporatemediaservices
2015-02-24 14:45:54
2021-11-22 19:28:07
Journalism - A Dangerous Job