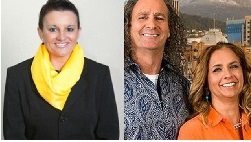 By Doug Weller – Corporate Media Services
Australian Senator, Jacqui Lambie, made some below the belt comments – quite literally, on Hobart's Heart 107.3 breakfast show with Kim and Dave.
In the interview, the radio hosts asked Senator Lambie about her relationship status and what she looks for in a man.
Her response was blunt; he must be rich and well endowed, or in Lambie speak, he must have "heaps of cash and they've gotta have a package between their legs, let's be honest – and I don't need them to speak."
Very interesting Jacqui, although I'm not sure that's the sort of information the Australian public needs to hear from a federal politician.
She even went on to chat with a 22 year old male caller and asked if he was "well-hung".
Someone said to me they liked this interaction because they're sick of slick politicians delivering slick media performances. In their opinion, it was just a bit of fun.
I understand that view. We're sick of politicians delivering messages like robots.
But do we really want to hear stuff like this from a federal law maker?
Australia has witnessed its fair share of clangers dropped by politicians. Pauline Hanson and former Queensland Premier, Sir Joh Bjelke-Petersen, come to mind. Joh's interview antics were so famous they were parodied.
There is definitely room in politics for a bit of light banter. US President, Barack Obama, is a pro at this. He knows how to joke around in a media environment without losing the respect of the people.
But politicians, like everybody else, need to be careful about what they say in traditional media interviews or social media posts. Otherwise it can come back to haunt them.
When Prime Minister, Tony Abbott, was filmed winking during a radio talk back call with a phone sex worker, it hit the headlines and he was labelled a creep. He didn't have to say a word to make a negative impression; his body language did the talking.
Jacqui Lambie seemed to think that she could make a controversial comment in one media format and that's where it would stay.
"Of course my political enemies will make a big deal out of my comments, but the reality is I was talking with Kim and Dave on Heart FM – not Sarah Ferguson on the ABC," she commented.
Media interviews are media interviews. The program format is irrelevant. Whether she was being interviewed on a fun-filled radio chat show, or a serious current affairs program, her comments and behaviour are news.
When Ms Lambie eventually offered a public apology to anyone she may have offended, she was disappointed that some of her important key messages on policy hadn't received media attention.
"I also told Kim and Dave about the $3000 a year that the Palmer United Senate team saved average Australian families at the last sitting of Parliament, but of course those comments didn't receive nationwide coverage – go figure!"
Go figure indeed, Jacqui. She destroyed any chance of a positive message being picked up once she uttered the words "well-hung."
Everyone should know there is a line you don't cross during media interviews.
Jacqui Lambie crossed it.
Remember
If you do or say something outrageous in a media interview it can quickly become a headline for all the wrong reasons.
Don't be afraid to engage in polite banter or humour during a media interview

BUT

be careful about it.
A good rule of thumb is something I learned on my second day as a cub reporter – if in doubt, leave it out.
Further Information
Well-Hung?  Palmer United Party senator Jacqui Lambie boards the Oversharing Express on radio station Heart 107.3
President Obama plays straight man to Hangover star Zach Galifianakis
Information Only
Any information presented on our website is of a general nature only and is not intended as a substitute for professional advice.
Further Assistance
If you want assistance regarding engaging with the media, contact Corporate Media Services for more information or training about  traditional media or social media. Make an email enquiry now… or call
1300 737 913
https://www.corporatemediaservices.com.au/uploads/Jacqui-Lambie-and-Heart-Radios-Kim-Dave1.jpg
142
251
corporatemediaservices
https://www.corporatemediaservices.com.au/uploads/corporate-media-services1.png
corporatemediaservices
2014-07-29 11:14:20
2021-07-10 16:18:55
Jacqui Lambie's 'Well-Hung' Moment