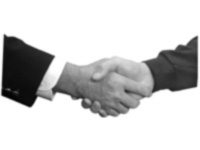 By Doug Weller
Have you ever wondered how to build relationships with journalists?
It is important that you build and maintain strong, professional and mutually beneficial relationships with journalists. If your organisation has a media or public relations division, work with and be guided by, these media professionals to facilitate this process.
Most journalists work in a high pressured, competitive environment. They are always looking for a good story, photograph or TV/ Video footage.
Journalists need good stories
To obtain good stories, journalists need 'good contacts'; people who can be a useful resource for providing information and messages.
Sometimes journalists will approach you for information (eg. in a crisis), at other times you will contact the journalist with a message you want to deliver through the media.
When contacting journalists, try to find an angle in your message that will appeal to them. Make sure you get to your point or key message and repeat it (remember they are under time pressure).
Know the deadlines for publications and radio/TV programs you wish to target. Journalists will be impressed if you ask them directly for this information as it shows you have made an effort to understand their work environment.
Taking the time to know what journalists want and need will help you and your organisation develop better relationships. This will in turn, improve your chance of getting your message used in the media.
Under no circumstances should you ever argue with journalists. In his autobiography 'OPEN', Tennis Champion Andre Agassi commented on his lack of media savvy early in his career. He noted that no one had advised him not to "snap" at journalists because it resulted in them becoming "rabid". Without this knowledge he paid the price in bad publicity and media criticism.
Always remember you are communicating with your target audience through the media.
Make an enquiry now or call us on 1300 737 913 or +61 412 298 905
https://www.corporatemediaservices.com.au/uploads/handshake1.jpg
150
200
corporatemediaservices
https://www.corporatemediaservices.com.au/uploads/corporate-media-services1.png
corporatemediaservices
2013-05-13 11:40:54
2019-07-07 11:24:07
How To Build Relationships With Journalists