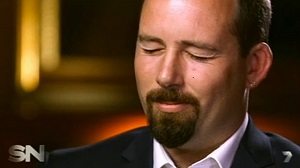 By Doug Weller – Corporate Media Services
Call me unusual if you like but I find politics really interesting.
I started covering politics when I was a cub reporter and I've been following politics ever since.
So forgive me for having another chop at the Ricky Muir/Mike Willesee interview, but the debate which has followed the airing of that exchange is an interesting lesson on dealing with media interactions and interviews.
Since my last blog on the topic, Motoring Enthusiast Party Senator, Ricky Muir, has come out fighting over his interview with Mike Willesee on Channel Seven's 'Sunday Night' program.
In the interview Ricky Muir had trouble answering questions and required breaks to regain his composure and consult his advisors.
Mr Muir has now reportedly described the interview and his treatment as unethical.
Muir's political advisor, former NSW independent MP and qualified media defamation lawyer, Peter Breen, wanted to lodge a formal complaint with the Australian Communications and Media Authority over Mr Muir's treatment. Muir blocked that move saying "… I can either let this get me down or use it as initiative to get better."
Mr Breen alleged that Channel Seven's handling of the interview was unfair and allowed Mr Muir to become the focus of ridicule and contempt – "It contained the imputation that he wasn't up to holding public office because he wasn't a good media performer", said Breen.
If you haven't seen the interview make sure you find time to view it at least 2 or 3 times.
If you're not involved in the media you might initially think that the interview is unfair or unethical.
But to describe the interview in that way is absolutely ridiculous.
Why?
If you're going to interact with the media and put yourself forward to do media interviews, you need to have a basic understanding of the role of the free media in a democratic society.
In a nutshell, the role of free media is to observe and report.
You may think some media outlets do that badly but that's another discussion.
Be very clear about this, journalists who work in mainstream media are not public relations or marketing practitioners. Nor are they involved in advertising -they are journalists.
It's crucial that you understand that point.
Journalists have access to a wide range of powerful and influential people, including politicians. The vast majority of the population will never have access to these people.
So it's up to journalists to interview these powerful people and deliver the results of those interviews to the public.
Ricky Muir is in an incredibly powerful position. He's been elected to the Australian Senate.
He is now voting on laws which will have an impact on every Australian citizen and in some cases, citizens of other nations.
He is accountable to the Australian public.
The questions that Mike Willesee asked Ricky Muir were totally appropriate for someone in Muir's position.
The interview was not a brash, hard hitting, 'shock-jock' style interview; Willesee was not aggressive, or pushy.
Experienced journalist and Executive Producer of Channel Seven's 7 'Sunday Night' program, Mark Llewellyn, has said that Mike Willesee was actually very kind to Ricky Muir.
Llewellyn is right. The questions were asked in a respectful and even gentle way.
In an interview with Crikey Llewellyn also said that Mr Muir's assumption that parts of the interview would not get used were unfounded and there had been no deal for Mr Muir to go 'off the record'.
"When did that kind of cosy deal become journalism — 'the wink, wink, nudge, nudge, I'll look after you if it all becomes a little too hard, possum'? What, by the way, are the ethics of censoring interviews and depriving audiences of the complete story? To in effect be part of that cosy club that shields politicians and keeps everyday Australians in the dark." Llewellyn said.
When Ricky Muir had trouble answering the questions and took a break, this was broadcast as it should have been.
For Mike Willesee or anyone else involved in that interview to edit out any of that material in order to make Ricky Muir look better than he actually was would have been a disservice to the Australian people.
It was up to Ricky Muir and his advisors to ensure that he was adequately prepared before the interview.
As I said in my last blog on this issue, Ricky Muir should never have started his media exposure in a high profile television interview of this type.
He wasn't ready for the questions and he wasn't ready for the lights and cameras of a broadcast interview environment.
What Mike Willesee did was ask the questions and show the responses.
Remember:
 Make sure that you're prepared for any questions that may be asked of you in an interview, especially the obvious questions.
 If you're not ready for a daunting media environment such as an intimidating studio style TV interview, don't do it.
 If you ever stuff up in a media interview don't kid yourself that the interviewer was unethical. Look at your performance and learn from any mistakes. Interesting to note that's what Ricky Muir said he will do, so good on him for that.
Further Information
Mike Willesee Interview Was Unethical: Ricky Muir
Information Only
Any information presented on our website is of a general nature only and is not intended as a substitute for professional advice.
Further Assistance
If you would like further information about dealing with the media contact Corporate Media Services for more information or training.
Make an email enquiry now… or call 1300 737 913
1300 737 913
https://www.corporatemediaservices.com.au/uploads/Ricky-Muir-struggling-through-interview.jpg
168
300
corporatemediaservices
https://www.corporatemediaservices.com.au/uploads/corporate-media-services1.png
corporatemediaservices
2014-07-24 10:09:44
2019-07-07 11:21:16
Ricky Muir Fights Back