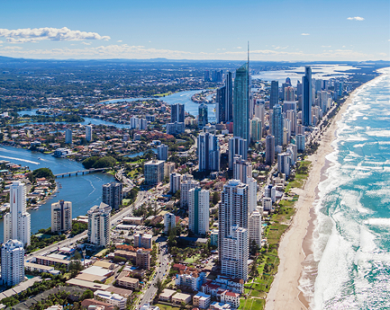 By Doug Weller
The company logo says it all 'Dreamworld Happiness'.
It's all about fun, happiness, and good times'.
Many Australians have wonderful memories of Dreamworld.
Maybe that's why the tragic accident that happened at Dreamworld shocked the public and impacted families nationwide.
This was a high profile and very newsworthy incident. It ran on local and international media for days.
Media reporting and scrutiny was fast. As you would expect journalists were quickly at the scene wanting details. Live crosses were the order of the day.
During a crisis like this, media interest is relentless.
When a crisis hits, handling it professionally should be the priority – certainly it is not business usual.
Company leaders need to front the media quickly. They need to display leadership and empathy.
Their media responses should demonstrate they are in charge and managing the very difficult situation.
The audience should be able to form a view early that the organisation's leadership is doing everything possible to deal with the crisis and help those who are suffering.
Having an easy to read and easy to absorb crisis plan, which incorporates crisis media communications, is paramount in preventing reputation damage.
Spokespeople should understand their communications roles during a crisis and what the media will require.
Unfortunately, the Dreamworld crisis response didn't hit the mark.
The initial response from Dreamworld's Chief Executive, Craig Davidson, was solid.
But after that both Dreamworld and its owner Ardent Leisure seemed to be reacting rather than proactively managing the media.
In fairness, leaders are people. I'm sure most, if not all of these people, would have been in a state of shock. It must have been terrible for them.
But media and the public can be unforgiving. Ensure you have a tested and firm crisis strategy ready to go.
When a crisis hits, media will be on your doorstep in a flash.
Three things stood out in the immediate aftermath of this crisis:
Planning to reopen within three days of the tragedy
The AGM immediately following the accident
Poor communication with victim's families
All of these issues led to negative media.
Rushing to reopen Dreamworld
It was announced that a memorial would be held three days after the accident and the park would reopen for business.
Planning to reopen Dreamworld three days after the tragedy, even in a restricted capacity, was a major misstep.
The police investigation was still underway.
The victim's bodies hadn't been repatriated to their loved ones.
To reopen a 'fun' park, while authorities are just metres away investigating a fatal incident, can only lead to negative media coverage.
Executives said the decision was based on psychological advice that reopening the park would benefit their employee's recovery.
That may be so. But timing the opening so soon after the incident was a bad move.
Of course employee welfare is an important factor. But employees could have been catered for in a different way such as opening a drop in centre at the complex so staff could chat to colleagues and counsellors.
The company's leadership needed to consider the victim's families, emergency investigators and the wider community when deciding when to reopen.
Dreamworld was obviously trying to do the right thing by everyone involved but many saw this move as insensitive and a public backlash followed.
Recovery from this point was always going to be difficult.
On top of this, if the theme park had reopened immediately after the accident, some of the first people through the door would have been journalists.
They would have come ready to interview patrons and staff about the tragedy resulting in more negative media.
The likelihood of distressed staff having to leave on that day would have been high and media would have caught every moment. Media on site would have only added to the distress.
Empathy and respect for the victim's and their families should be a high priority after an accident like this, as should the incident investigation.
A reopening date was eventually postponed until after the victim's funerals.
Holding the AGM in wake of crisis
The company's Annual General Meeting (AGM) was scheduled for two days after the tragedy.
It was unfortunate timing.
The media quickly reported that due to profit increases Ardent CEO, Deborah Thomas, was in line for a large financial bonus up to $843k.
Talk of large financial bonuses when people had lost their lives at Dreamworld resulted in another media and public backlash.
After the negative reaction, CEO, Deborah Thomas thoughtfully donated her cash bonus of $167,500 to the Red Cross for distribution to the victim's families.
Unfortunately despite this, she and her family were subjected to appalling and disgraceful threats.
Poor communication with victim's families
The next big misstep in handling this crisis was leadership's poor communication with victim's families.
During a crisis, not only do you need to be acting. It's essential that you are seen to be acting.
Deborah Thomas stated in a media conference that the victim's families had all been contacted and offered support.
We then watched as a journalist at the same media conference informed the CEO that one family had not been contacted by the company and was very upset.
The journalist told the CEO the relatives were watching the media conference and were angered at the false media comment claiming everyone had been contacted.
The journalist provided the family's contact details to the CEO live on air!
This was an embarrassing moment for the company.
It would have been easy to use the media to make contact with the victims' families so assistance could be offered.
Media representatives are more than happy to assist in this way when a crisis happens.
Instead, company executives were waiting for a police liaison officer to make contact with families.
The company could have used the media to deliver a statement such as:
"We are trying to make contact with you but we are having difficulty reaching you…. Please contact us or the police urgently so we can help and support you during this sad and difficult time."
"We thank Queensland police for its efforts in trying to contact loved ones."
"If you know family members please ask them to make contact with us or the police."
But instead they were waiting for families to come to them via the police liaison process.
Waiting looked insensitive to many but that obviously wasn't the intention.
Deborah Thomas has said if the company was hit with a crisis like this in the future she would handle the situation with the victim's families differently.
Crisis Media Lessons
When you have an accident your response needs to be swift and compassionate
Don't try to go back to business as usual in a hurry – wait until it's clearly appropriate
When you have a critical incident like this stop everything and get the most senior people to the scene immediately
You need to reach out to victims and their families and do it fast
If possible, cancel or restrict public announcements unrelated to the tragedy
Ensure you are speaking to the community in a way which is acceptable and in a way that people can understand
Don't use internal jargon
Always have a crisis plan you can activate as soon as an incident occurs
Ensure crisis media communications are incorporated into your plan
Be aware of your audience and what it needs to know
Use the media to communicate with your audience
Make requests for information if needed via TV, radio and social media.
Don't give false information to the media – it will be embarrassing when refuted
Take control – be proactive not reactive
Information Only
Any information presented on our website is of a general nature only and is not intended as a substitute for professional advice.
Further Assistance
If you want to know more about engaging with the media, contact Corporate Media Services for more information about our media training programs and services. Make an email enquiry now… or call
1300 737 913
https://www.corporatemediaservices.com.au/uploads/corporate-media-services1.png
0
0
corporatemediaservices
https://www.corporatemediaservices.com.au/uploads/corporate-media-services1.png
corporatemediaservices
2016-11-07 14:49:11
2021-07-24 18:05:45
Dreamworld's Crisis Communications Nightmare