The media… for some, is something they fear and don't understand.
For others, it's a vital part of their communications and marketing strategy – an ally they can't do without.
It's these organisations that are successful today.
Because success in the spotlight is no accident
ADVICE
Many organisations, managers and leaders see the media as complex, confusing and even threatening. That's why having an insider demystify things and provide tailored advice on what you can do to maximise your media opportunities or manage your media situation is invaluable.
Whether you're looking for guidance on how you can make the most of the media or manage a specific situation, it's good to know you have an experienced media professional by your side.
TRAINING
Our trainers are experienced professionals who have recently worked in the media industry. This means you get up-to-date media and communication skills in an interactive, realistic training programs, entirely tailored to your needs. Our unique, practical approach to training applies realistic scenarios to prepare participants to effectively manage their own real life media situations.
When you're equipped with the knowledge and confidence to effectively manage your media, it can become a powerful ally.
STRATEGY
In order to communicate effectively with and through the media, you must have a clear media strategy.
We work with you to develop a focused set of strategic objectives and a methodology to send the messages you want to journalists and the media.
More than ever, knowing how to make all media types work for your organisation is essential. We'll help you develop a strategy that can out-perform even your best marketing efforts.
Real-world training for real-world situations
Communicating effectively with the media, knowing how to use the media as a promotional tool and understanding how to manage journalists and other media representatives can provide you with an unassailable advantage in the marketplace.
Learn how to manage instant media attention, anticipate and deal with difficult or intense situations and be an effective spokesperson in this advanced program.
Get the skills to deal with journalists and other media representatives on the spot, with confidence. You'll learn how all sectors of the media operate and how to be an effective spokesperson who can make the most of being in the spotlight.
Knowing how the media and journalists operate when covering a crisis and how to communicate quickly, professionally and effectively during this time can be the best investment you make in your brand and reputation.
In today's business world, the ability to deliver professional and dynamic presentations is essential. Get the tools and confidence you need to deliver effective and impactful presentations that create a lasting impression.
"Fantastic! One of the best and most relevant training courses I have ever done!"
"Excellent. First class – much more useful than I had anticipated!"
"Excellent. I enjoyed and needed the practise. Doug and Milton were both fantastic and very helpful."
Are you ready to harness the power of the media?
We're ready to help you – let's talk
Cutting edge, no-nonense advice, training & strategy delivered by
Award-winning, senior journalists
Your trainers are hand-picked, experienced professionals who've worked recently in the media industry and have an intimate knowledge of media and how you can make the most of it.
To ensure our training programs are as realistic and effective as possible, you're assured of…
All media
&

all situations
"Fantastic! One of the best and most relevant training courses I have ever done!"
"Excellent. First class – much more useful than I had anticipated!"
"Excellent. I enjoyed and needed the practise. Doug and Milton were both fantastic and very helpful."
Let's get your people media-ready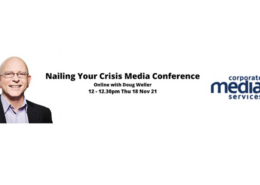 Date: 18 November 2021Format: Online WebinarPresenter: Doug…
https://www.corporatemediaservices.com.au/uploads/20211118-nailing-your-crisis-media-conference-doug-weller-corporate-media-services.png
720
1280
corporatemediaservices
https://www.corporatemediaservices.com.au/uploads/corporate-media-services1.png
corporatemediaservices
2021-11-19 12:35:19
2021-11-24 13:24:21
Nailing Your Crisis Media Conference with Doug Weller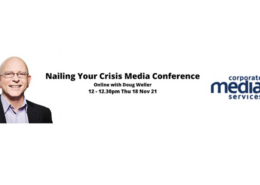 Donald Trump's former personal assistant learnt a brutal lesson…
https://www.corporatemediaservices.com.au/uploads/corporate-media-services1.png
0
0
corporatemediaservices
https://www.corporatemediaservices.com.au/uploads/corporate-media-services1.png
corporatemediaservices
2019-09-05 20:13:44
2021-11-12 11:27:19
In Case You're Wondering - Nothing's Off-The-Record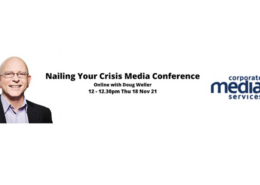 By Doug Weller The distressing humanitarian crisis over children…
https://www.corporatemediaservices.com.au/uploads/corporate-media-services1.png
0
0
corporatemediaservices
https://www.corporatemediaservices.com.au/uploads/corporate-media-services1.png
corporatemediaservices
2018-06-25 16:20:17
2021-07-24 16:49:47
I Really Do Care About Melania Trump's Jacket Fiasco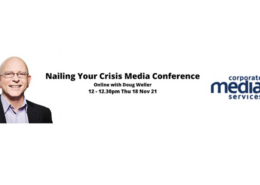 By Doug Weller Crisis communications planning should happen…
https://www.corporatemediaservices.com.au/uploads/corporate-media-services1.png
0
0
corporatemediaservices
https://www.corporatemediaservices.com.au/uploads/corporate-media-services1.png
corporatemediaservices
2018-03-29 19:01:30
2021-07-24 16:58:56
When a Crisis Hits - What to say and how to say it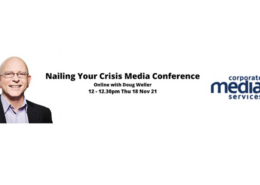 By Doug Weller The CBS social media crisis following the tragic…
https://www.corporatemediaservices.com.au/uploads/corporate-media-services1.png
0
0
corporatemediaservices
https://www.corporatemediaservices.com.au/uploads/corporate-media-services1.png
corporatemediaservices
2017-10-20 17:16:24
2021-07-24 17:07:30
CBS Social Media Crisis Following Vegas Shooting
Stay in touch with us. For the latest media tips, blunders, wins, advice & goings on
SUBSCRIBE TO OUR BLOG
Reputation management, business growth, brand development… Whatever your organisation needs
Start developing and integrating a media strategy today