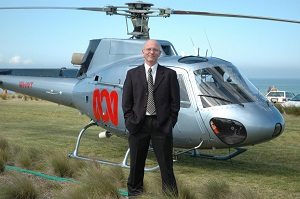 By Doug Weller
When I began my media career in the mid 70's as a cub reporter in Brisbane, the world of journalism seemed very scary.
Fronting up to the news room each morning to be given a complicated story to follow was a terrifying prospect.
Sometimes as a young reporter I started writing a news story without fully understanding the details of the issue.
The enormous pressure to meet the deadline was the main driving force.
As journalists mature into the job they quickly learn how to get their heads around complex information.
However, understanding the precise details of various topics can be challenging even for experienced journalists.
Later in my career I attended a media conference at a major Melbourne hospital. About 15 minutes into the media conference I leaned across to a colleague from another network and said, "Do you understand what these people are saying?" She looked at me and replied, "No, I can't work it out."
Many people make the mistake of believing the journalist understands their issue as much as they do.
Reporters, especially those new to the job, often need issues explained in detail so they can produce an item that their audience can understand.
The more a journalist understands your issue or news item, the more chance they have of getting it right.
Journalists do make mistakes when compiling news items. You can help reduce those mistakes by giving them clear background information and explaining the ins and outs of the story.
You may understand the history of a particular issue – the journalist often doesn't.
A journalist with limited knowledge of an issue and under pressure to produce a news item to a precise deadline, can be a bad combination.
In my experience most journalists are doing a tough job in a tough environment and are trying to get the story right.
Allocating time to educate a journalist about your issues will help the entire communication process.
Informing and educating a journalist about an issue:
Clearly explain the history of the issue and where it currently stands – This is called a 'backgrounder'
A 'backgrounder' can be done verbally – backed up by any relevant documentation, statistics and visual information
Refer journalists to resources such as web pages and social media sites
 Information Only
Any information presented on our website is of a general nature only and is not intended as a substitute for professional advice.
Further Assistance
If you want to know more about engaging with the media, contact Corporate Media Services for more information about our media training programs and services. Make an email enquiry now… or call
1300 737 913
https://www.corporatemediaservices.com.au/uploads/Doug-ABC-Helicopter-300x200px.jpg
199
300
corporatemediaservices
https://www.corporatemediaservices.com.au/uploads/corporate-media-services1.png
corporatemediaservices
2014-09-12 10:21:48
2019-07-07 11:20:53
Helping Journalists Get It Right